It was always my intention to read a bit of Arthur C. Clarke. I was especially interested in the novel "Childhood's End", but I couldn't get that one when I was in Waterstone's.
I instead decided to buy two other novels of his: "A Fall of Moondust" and, the novel I read recently, "The City and the Stars".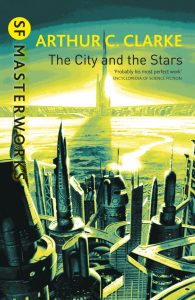 I read the Ishigoru book before and I would say that, although a different writing style, the books are of equal difficulty. It's an easy read.
I enjoyed The City and the Stars even though it described a world that is pretty unfathomable to me and I did not ever really identify with the main protagonist, Alvin.
Alvin, btw., was the only name that seems "normal" by today's standards and I am aware that the story was written in the 50's. Most other names seem somewhat "futuristic".
The City in the novel is the last city of mankind, Diaspar, surrounded by desert on an otherwise barren planet earth. No oceans, no trees, no wildlife or flora. The Stars refers to a set of stars that man once inhabited for the novel takes place millions and millions of years into the future. Mankind "lost" access to the stars, so it appears, when they had to surrender in a war against some alien beings, also millions of years ago. It was so long ago, that no one can remember the aliens or the war, only that the stars and everything outside the city of Diaspar is forever off-limits to everyone in it. The alien victors, called Invaders, drove mankind to its last refuge before settling on peace and for mankind never to leave the city again.
In Diaspar, life is comfortable but controlled. People live for tens of thousands of years at a time and when they do die, their memories – or some of them – are returned to a giant database to be returned after many thousands of years into another body for yet another go at life in the city of Diaspar. It is said that a million lifetimes wouldn't be enough to discover all the city had to offer.
I think, what makes the novel so readable is the anticipation of solutions to immediate obstacles or mysteries in Alvin's path. You know he's special from the other inhabitants of Diaspar, you know he wants to leave the city, you know that everything he encounters will have its usefulness in the next few pages. Without giving too much away, the book obviously deals with what's left on Planet Earth and, of course, how and why mankind lost the stars and you discover so much more.It is a relaxing and entertaining read and I got through the book in about two weeks.
As a next book, I picked something that I thought would be a little more demanding: A Farewell to Arms, by Ernest Hemingway.